Double Ferrule Fittings
The Tube Fittings provide a leak-prool, torque-free seal at all tubing connections and eliminate costly

hazardous leaks in instrumentation and process tubing. All the action in the fitting moves along the tube axially instead of with a rotary motion. Since no torque is transmitted from the fitting to the tubing, there is no initial strain which might weaken the tubing.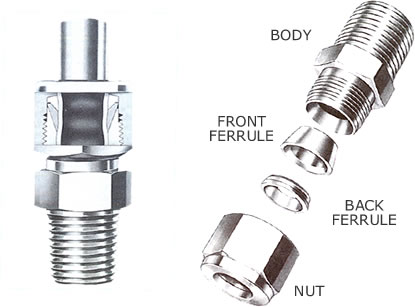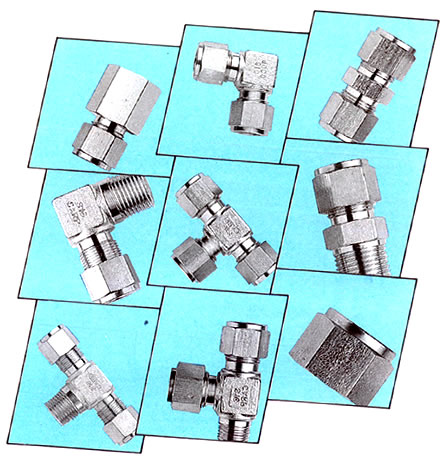 CATION:
Do not mix or interchange parts of tube fittings made by other manufacturers with Tube Fitting parts.

Total system design must be considered to assure safe. trouble-free performace. Material compatibility. adequate ratings, proper installation. operation and maintenance are the responsibility of the systom designer and user.

To assure reliable perfomance, Tube Fittings are composed of four precision-made components, all manufactured to very stringent tolerances under rigid quality control procedures. The consistency and quality of these matched components has permitted their use in many difficult and severe services.

Although the fitting consists of four components. Nut, Back Ferrule, Front Ferrule and Body. it becomes a fivepiece connection when affixed to the tubing. The two-ferrule design and ssquential action of the fitting overcome variations in tube materials, wall thicknesses and hardness to assure safe, rellable, leak-free connections. And Tube Fittings are easily installed with no special tools required.